Our Advantages
Our handpicked team of washer repair wizards combines unparalleled expertise and a touch of magic to solve even the trickiest washer issues, guaranteeing efficient and spellbinding results.
We don't believe in keeping you in spin cycle limbo. Our lightning-fast service aims to have your washer back in action the same day, so you can bid farewell to laundry woes in a flash.
Our transparent pricing policy ensures you'll never be caught off guard, with no surprises or secret fees lurking in the shadows.
Prepare to be treated like royalty as we enchant you with our exceptional customer service. From courteous communication to personalized attention, our team will go the extra mile to make your washer repair experience truly enchanting.
With a track record of delivering extraordinary results, we have become the trusted choice for countless households, ensuring your washer remains a faithful companion for years to come.
Comprehensive Washer Repair Services in London, Ontario: Your Trusted Solution for All Washer Types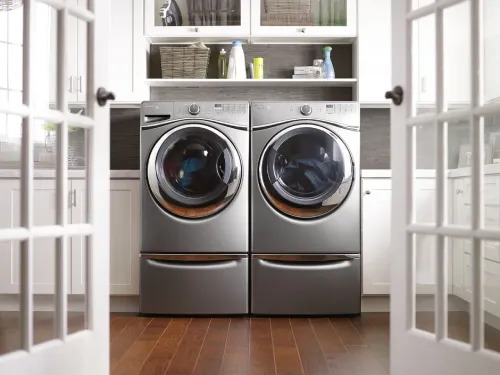 Front-Load Washers
Front-load washers have become a popular choice for their sleek design, energy efficiency, and superior cleaning performance. However, when these modern marvels encounter issues such as door seal leaks, drainage problems, or electronic control malfunctions, it's essential to rely on professionals with expertise in front-load washer repairs.
Our skilled technicians possess in-depth knowledge of the intricate workings of front-load washers and can promptly diagnose and resolve any problems to restore optimal functionality.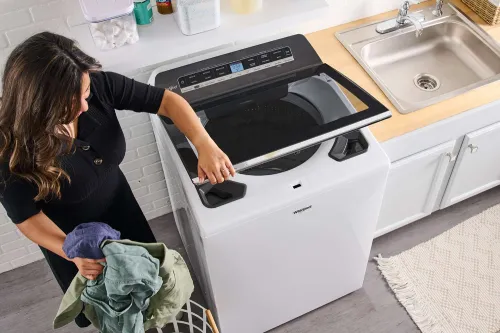 Top-Load Washers
For those who prefer the familiarity and simplicity of top-load washers, our expert technicians are well-versed in their inner workings as well. From agitator and belt replacements to addressing issues with water temperature control or spin cycle irregularities, we have the expertise to provide efficient repairs for all major top-load washer brands.
Our goal is to ensure your washer operates smoothly, allowing you to enjoy the convenience and reliability these traditional models offer.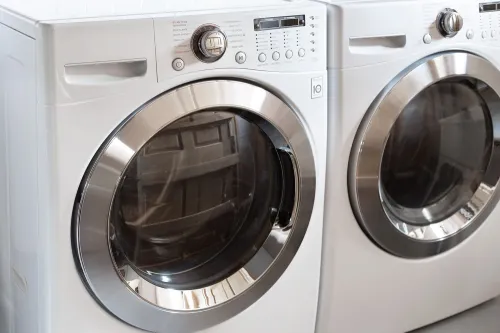 High-Efficiency (HE) Washers
HE washers have revolutionized the laundry experience by offering significant water and energy savings. These advanced machines utilize less water and detergent while delivering exceptional cleaning power. However, their complex mechanisms can present unique repair challenges. At Profixx Appliance Repair company, our technicians have extensive experience in diagnosing and fixing issues specific to HE washers, including sensor failures, drainage problems, and electronic control malfunctions.
With our expertise, we can quickly restore your HE washer's high-performance capabilities.
Compact and Stackable Washers
In London's urban landscape, compact and stackable washers have gained popularity for their ability to maximize space without sacrificing functionality. These versatile washers are common in apartments, condos, and smaller laundry areas.
Our skilled technicians are well-versed in repairing compact and stackable washer models, ensuring that every space-saving inch of your laundry room remains fully functional. Whether it's addressing motor issues, drum malfunctions, or electrical problems, we have the expertise to keep your compact washer running smoothly.
Common Washer Problems That We Repair
Washer not spinning
Faulty motor
Broken belt
Malfunctioning lid switch
Washer not draining
Clogged drain hose
Defective pump
Malfunctioning control board
The washer not filling with water
Faulty water inlet valve
Clogged filters
Malfunctioning pressure switch
Excessive vibration or shaking
Unbalanced load
Worn-out suspension springs
Defective shock absorber
Strange noises during the operation
Defective motor
Worn-out bearings
Malfunctioning drive belt
Leaking water
Damaged door seal
Worn-out pump or hose
Faulty water inlet valve
Error codes on the display
Issues with sensors
Malfunctioning control boards
Other component problems
Trustworthy Service Tailored to Your Washer's Needs
We understand the value of having specific knowledge and abilities for each kind of equipment when it comes to washer repairs. We have thus made it our goal to become actual experts in fixing all significant washer kinds. We have committed ourselves to learning the nuances of each model, whether you have a front-load, top-load, high-efficiency (HE), or compact/stackable model. We can provide complete solutions for every washer-related problem you may have because to our everlasting dedication to quality and our vast industry knowledge. You can rely on us to conduct your washer repairs with the finest skill and commitment, ensuring that your appliance runs smoothly once again.
FAQs
How long does a washer repair typically take?

The duration of a washer repair can vary depending on the specific issue and the availability of parts. Our skilled technicians strive to complete repairs as efficiently as possible without compromising on quality. In many cases, common repairs can be completed within a single visit.

Do you provide a warranty for your washer repair services?

Yes, we stand behind the quality of our repairs. We offer a warranty on both the labor and parts used during the repair process. The length of the warranty may vary depending on the specific repair and the parts involved. Our customer support team can provide detailed information regarding warranty coverage.

What types of washer brands do you repair?

We are experienced in repairing a wide range of washer brands, including but not limited to Whirlpool, Maytag, LG, Samsung, GE, Kenmore, Bosch, and many more. Our technicians stay up-to-date with the latest industry advancements and receive ongoing training to ensure they can effectively address issues with various washer models.

How do I know if it's better to repair my washer or replace it?

Deciding whether to repair or replace your washer depends on several factors, including the age of the appliance, the extent of the problem, and the cost-effectiveness of the repair. Our technicians can assess your washer's condition and provide an honest evaluation to help you make an informed decision. We prioritize transparency and will recommend the most cost-effective solution for you.

How much does the washer repair service cost in London, Ontario?

The cost of washer repair in London, Ontario, can vary depending on several factors, including the type and extent of the issue, the brand and model of the washer, and the specific repair service provider. It's best to contact local appliance repair companies directly for accurate pricing information. They can often provide estimates over the phone or through their website after discussing the problem with you.
If you have any additional questions or concerns, please feel free to contact our team. We are dedicated to assisting you and delivering top-notch washer repair services in London, Ontario.