Types of Dishwasher Repair London Ontario
As a reputable dishwasher repair company, we have extensive experience in repairing various types of dishwashers. We are well-versed in addressing the unique needs and repair requirements of each dishwasher type. Here are the types of dishwashers we specialize in repairing: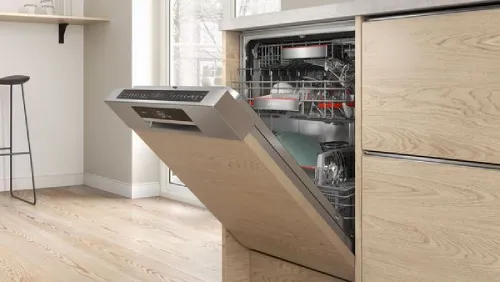 Built-in Dishwashers
Our skilled technicians are experts in diagnosing and fixing issues with built-in dishwashers. Whether it's a problem with the control panel, motor, or drainage system, we have the knowledge and expertise to provide efficient and reliable repairs.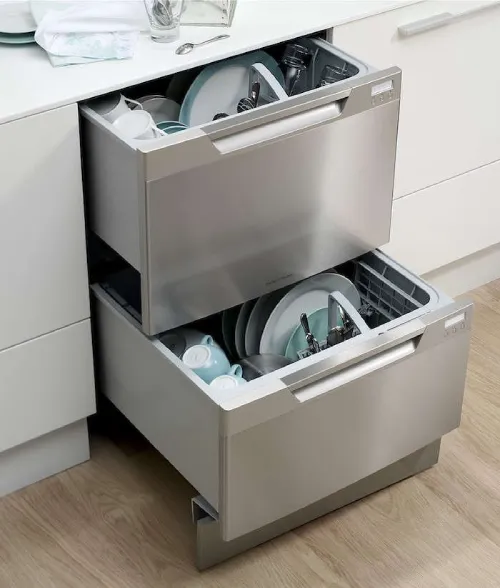 Drawer Dishwashers
Repairing drawer dishwashers requires specialized knowledge due to their unique design. We are well-versed in handling various drawer dishwasher models and can effectively address issues such as malfunctioning drawers, sensor problems, and drainage issues.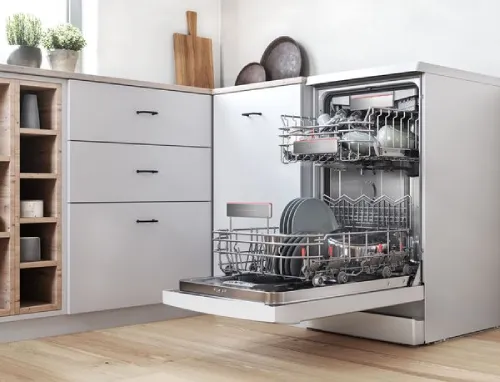 Compact Dishwashers
Our technicians have in-depth experience repairing compact dishwashers, recognizing the specific challenges that may arise with these smaller appliances. We are skilled in resolving issues with compact dishwashers' compact motors, water heaters, and other components.
Common Dishwasher Problems We Can Fix
Failure to start or power on
Water not draining properly
Leaking water or excessive moisture
Inadequate cleaning or poor performance
Unpleasant odors
Excessive noise or vibrations
Error codes or display issues
Door latch or seal problems
Our Repair Process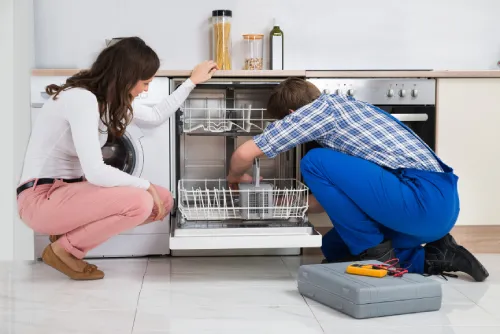 Initial Assessment

When you contact us for dishwasher repair, our friendly customer service representative will gather essential information about your appliance and the problem you're experiencing. This information helps us determine the most appropriate solution and prepare for the repair appointment.

Repair Appointment

We will schedule a convenient time for one of our technicians to visit your location. Our technician will arrive promptly, equipped with the necessary tools and replacement parts, to assess and repair your dishwasher. They will explain the issue, discuss potential solutions, and provide an accurate cost estimate before proceeding with any repairs.

Efficient Repairs

Our technicians work diligently to complete repairs efficiently without compromising on quality. They use their expertise and experience to perform the necessary repairs, replace faulty components if needed, and test the dishwasher to ensure it is functioning optimally.

Customer Education

Once the repairs are completed, our technician will provide you with useful tips and recommendations to help you maintain your dishwasher's performance and prevent future issues. We believe in empowering our customers with knowledge to extend the lifespan of their appliances.

Guaranteed Satisfaction

We stand behind the quality of our work. We offer a warranty on both our parts and labor, giving you peace of mind that your dishwasher repairs are backed by our commitment to your satisfaction.
FAQs
How long will it take to repair my dishwasher?

The duration of dishwasher repairs can vary depending on the specific issue and the availability of replacement parts. Our goal is to provide prompt service and minimize any disruption to your daily routine. Our technicians will assess the problem and provide an estimated timeline for the repair during the initial evaluation.

Is it more cost-effective to repair my dishwasher or replace it?

The decision to repair or replace your dishwasher depends on various factors, including the age of the appliance, the extent of the problem, and the cost of repairs compared to the price of a new dishwasher. Our technicians can evaluate the condition of your dishwasher and provide professional advice on whether repair or replacement is the best option for you.

Are your technicians qualified to repair all dishwasher brands?

Yes, our technicians have the expertise and training to repair dishwashers of various brands, including popular ones like Whirlpool, Bosch, Samsung, LG, Maytag, and more. They stay updated with the latest technologies and are familiar with the specific requirements of different dishwasher brands.

What if my dishwasher problem recurs after the repair?

We stand behind the quality of our work and offer a warranty on both parts and labor. If the same issue resurfaces within the warranty period, simply contact us, and we will schedule a follow-up visit to resolve the problem at no additional cost to you.

Can I prevent future dishwasher problems?

Yes, there are several preventive measures you can take to minimize the likelihood of future dishwasher issues. These include regularly cleaning the filter, ensuring proper loading and spacing of dishes, using dishwasher-safe detergent, and avoiding overloading. Our technicians can provide additional tips and guidance on maintaining your dishwasher for optimal performance.