Customer Satisfaction is Our Priority
At Profixx, we prioritize customer satisfaction above all else. We understand that a malfunctioning fridge can cause significant inconvenience and disrupt your daily routine. That's why we strive to provide exceptional service that exceeds your expectations.
Our technicians are not only highly skilled and certified but also dedicated to delivering top-quality repairs with attention to detail. We take the time to diagnose the problem and provide an accurate solution thoroughly. You can trust us to use only high-quality parts and state-of-the-art tools to ensure the longevity of your fridge's repair.
Transparency is a core value of our business. We believe in upfront pricing without any hidden surprises. Before starting any repair work, we provide a detailed estimate, explaining the cost breakdown. We want you to feel confident in our services and know exactly what to expect.
Your convenience is important to us. We offer flexible scheduling options to accommodate your busy schedule. Whether you need same-day or next-day service, we strive to be there for you when you need us most. We aim to minimize downtime and restore your fridge's functionality as quickly as possible.
Unleashing Our Expertise in Fridge Repairs
As London's leading appliance repair company, we possess unmatched expertise in servicing and repairing a diverse array of fridge types, which include: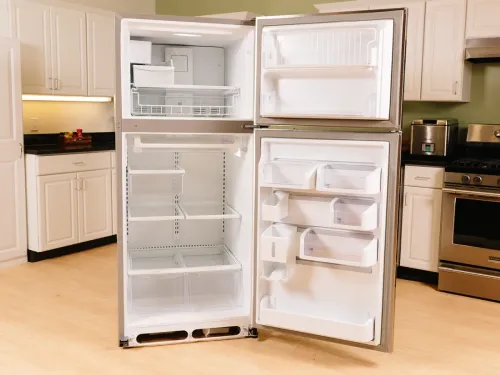 Top-Freezer Fridges
These timeless models showcase a freezer compartment on top and a refrigerator section below. Our seasoned technicians boast extensive experience in diagnosing and remedying common issues such as thermostat problems, defrosting malfunctions, or faulty compressors, restoring your fridge's functionality with finesse.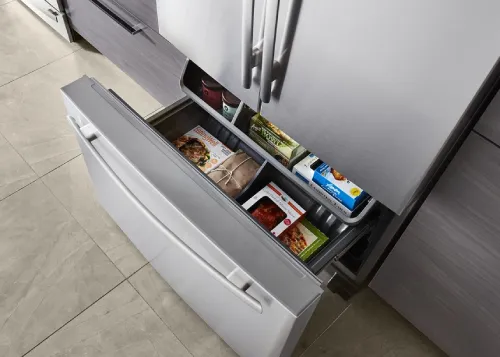 Bottom-Freezer Fridges
Conveniently housing the freezer compartment at the bottom, these fridges offer effortless access to fresh food. Our skilled professionals are well-versed in resolving specific problems associated with bottom-freezer fridges, such as defrost drain blockages, malfunctioning ice makers, or faulty evaporator fans, ensuring optimal performance.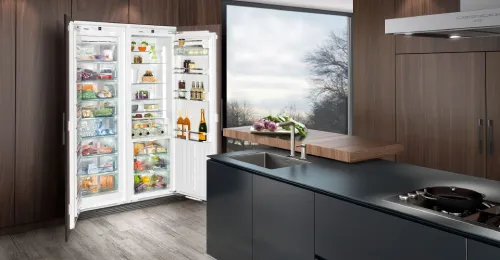 Side-by-Side Fridges
Exhibiting a sleek design with the freezer compartment on one side and the refrigerator section on the other, side-by-side fridges provide generous storage space. Equipped with in-depth knowledge of side-by-side fridges, our technicians are adept at troubleshooting and repairing temperature inconsistencies, dispenser malfunctions, faulty door seals, and more, restoring equilibrium to your fridge.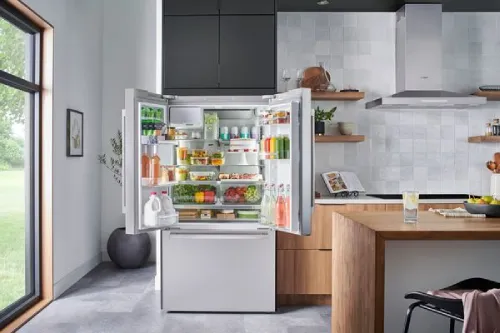 French Door Fridges
Renowned for their elegant aesthetics and capacious interiors, French door fridges have surged in popularity. Our highly experienced team excels in handling the intricacies of French door fridges, skillfully addressing issues such as problematic ice makers, defrost system failures, compressor malfunctions, and other technical intricacies, ensuring optimal functioning.
With our expertise spanning diverse fridge types, we are dedicated to delivering unparalleled service, reviving your fridge's performance to its full potential. Trust our adept technicians to handle your fridge repair needs with precision, professionalism.
Common Fridge Problems That We Repair
Temperature fluctuations
The refrigerator is not cooling/freezing
Water leakage
Excessive frost or ice buildup
Strange noises
Door seal/gasket issues
Refrigerator not running
Ice dispenser or water dispenser problems
The interior light is not working
Faulty control panel/display
Contact Us Today
When your fridge needs repair, trust the experts at Profixx Appliance Repair to deliver reliable and efficient solutions. Contact us today to schedule an appointment with our skilled technicians and experience the unparalleled service that sets us apart as London's premier appliance repair company. Let us restore the functionality of your fridge and bring peace of mind back to your home.
FAQs
How quickly can you repair my fridge?

At Profixx Appliance Repair, we understand the importance of a functional refrigerator in your daily life. We strive to provide prompt service and aim for same-day repairs whenever possible. We aim to minimize any inconvenience caused by a malfunctioning fridge and get it back up and running as quickly as possible.

Do you repair all brands and models of refrigerators?

Yes, we specialize in repairing a wide range of fridge brands and models. Our experienced technicians have in-depth knowledge and expertise in handling various manufacturers, including but not limited to Samsung, LG, Whirlpool, GE, Maytag, Frigidaire, and many more. Whether you have a top-freezer fridge, a French door model, or any other type, we have you covered.

How can I schedule a fridge repair service with you?

Scheduling a repair service with us is easy! Simply give us a call or fill out the online contact form on our website. Our friendly customer service team will assist you in setting up an appointment at a convenient time for you. We offer flexible scheduling options to accommodate your needs.

Are your technicians certified and insured?

Absolutely! Our technicians are factory-trained and possess the necessary certifications to handle fridge repairs. They undergo regular training to stay updated on the latest industry advancements and repair techniques. Additionally, we are a fully insured company, ensuring that you are protected throughout the repair process.

What if my fridge cannot be repaired?

Sometimes, a fridge may reach a point where repair is not a cost-effective solution or the damage is beyond repair. If this happens, our technicians will provide an honest assessment and recommend the best action. We can assist you in exploring replacement options and provide guidance to ensure you find the right refrigerator that fits your needs and budget.
If you have any further questions or concerns, please don't hesitate to contact our team. We are here to assist you and provide the best possible fridge repair services in London, Ontario.