Common Problems That We Repair
Heating Issues

If your oven is not heating up properly or failing to reach the desired temperature, it may be due to a faulty heating element, thermostat, or a malfunctioning control board. Our skilled technicians can diagnose the problem and replace any defective components to restore optimal heating performance.

Uneven Heating

Uneven heating in your oven can result in unevenly cooked food. This issue could be caused by a malfunctioning heating element, a faulty temperature sensor, or an ineffective convection fan. Our team will inspect and replace any faulty components to ensure even heat distribution for consistent cooking results.

Faulty Ignition

If you have a gas oven and it fails to ignite, it may be due to a faulty igniter, a malfunctioning gas valve, or a blocked gas line. Our experts will thoroughly examine the ignition system, clean or replace the necessary parts, and ensure safe and efficient ignition.

Malfunctioning Controls

Issues with the oven controls can be frustrating and hinder your cooking experience. Whether it's a malfunctioning keypad, a non-responsive control panel, or error codes displaying, our technicians have the expertise to diagnose and repair the control system, restoring full functionality to your oven.

Poor Self-Cleaning Performance

If your oven's self-cleaning function is not working effectively, it may be due to a faulty door latch, a malfunctioning thermostat, or a problem with the self-cleaning cycle. Our skilled technicians will examine the self-cleaning mechanism, replace any defective parts, and ensure proper operation for a thorough and efficient cleaning process.
Types of Ovens That We Repair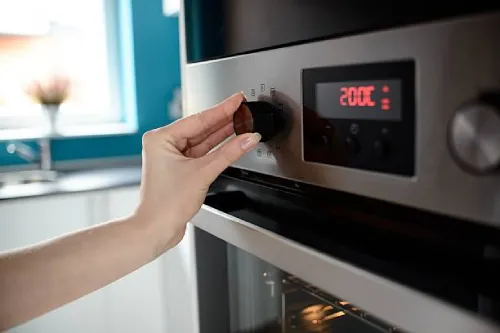 Electric Ovens
Our appliance repair company specializes in repairing electric ovens. These ovens use electricity to generate heat for cooking and baking. We have the expertise to handle a wide range of electric oven models and resolve any issues efficiently.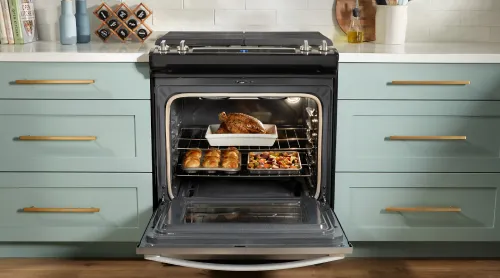 Convection Ovens
Convection ovens utilize a fan to circulate hot air evenly, resulting in faster and more even cooking. Our technicians have the knowledge and skills to repair convection ovens and address any issues related to their unique airflow systems.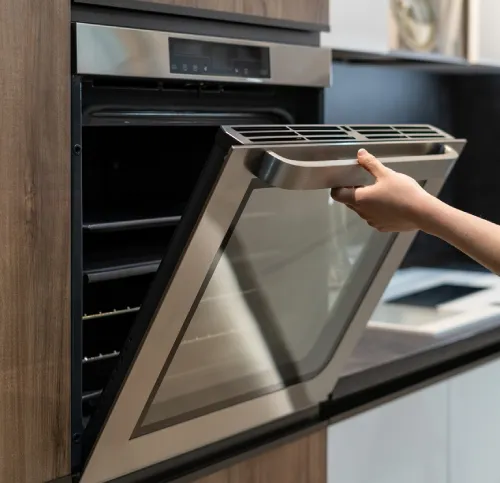 Self-Cleaning Ovens
These ovens have a built-in self-cleaning feature that uses high heat to burn off food residues and grease, making maintenance easier.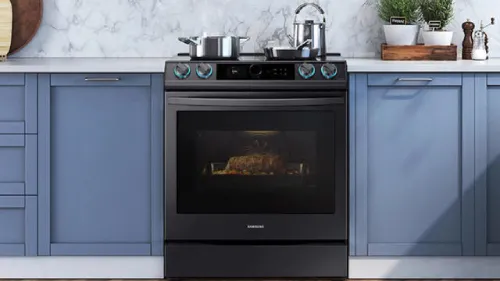 Induction Ovens
Induction ovens use electromagnetic fields to heat cookware directly. These ovens may require repairs for issues related to the induction heating elements, control boards, or electronic components.
Process of Hiring Us
Convenient Appointment Scheduling

Easily book an appointment online or via phone at your convenience.

Prompt On-Site Assessment

Our skilled technicians quickly diagnose oven issues using advanced tools.

Transparent Explanation and Estimate

Clear explanations and upfront cost estimates were provided.

Swift and Efficient Repairs

Skilled technicians swiftly resolve issues, carrying commonly used replacement parts.

Thorough Testing and Quality Assurance

Rigorous testing ensures a fully operational oven.

Follow-Up and Satisfaction

Dedicated to your satisfaction, we ensure a lasting solution.
Experience the convenience and efficiency of our quick repair process. Contact us today to schedule your oven repair in London, Ontario.
FAQs
Do you provide a warranty for your oven repair services?

Yes, we stand behind the quality of our work. We offer a warranty on both the parts and labor involved in the oven repair. This warranty provides you with peace of mind and ensures that you are covered in case of any unforeseen issues.

How long does a typical oven repair appointment take?

The duration of an oven repair appointment can vary depending on the complexity of the problem. Minor repairs can often be completed within a couple of hours. However, for more extensive repairs or if specific parts need to be ordered, the repair process may take longer. Our technicians will provide you with an estimated time frame based on your specific situation.

Can you repair all oven brands and models?

Yes, our expert technicians have extensive knowledge and experience in repairing ovens of various brands and models. Whether you have a popular brand or a lesser-known model, we have the expertise to diagnose and repair the issue efficiently.

How soon can I schedule an appointment for oven repair?

We understand the urgency of getting your oven repaired promptly. We offer flexible scheduling options and strive to accommodate your availability as much as possible. Contact us today, and our friendly customer service team will work with you to find a convenient appointment time.

What precautions do you take during the oven repair process?

Our technicians prioritize safety during every repair appointment. They are trained to handle electrical and gas components with caution. They will ensure that the oven is properly disconnected from the power source or gas supply before beginning any repairs. Additionally, they will follow industry-standard safety procedures to minimize any potential risks.

Do you offer maintenance services for ovens?

Yes, in addition to repairs, we also offer routine maintenance services for ovens. Regular maintenance helps prevent potential issues, extends the lifespan of your oven, and ensures optimal performance. Contact us for more information on our maintenance packages and schedule a service to keep your oven in top shape.
If you have any further questions or need assistance with your oven repair in London, Ontario, please don't hesitate to reach out to us. Our knowledgeable team is ready to assist you.